Wall Mural
Wall mural services refer to the process of creating large-scale, painted or printed graphics on the walls of a building or room. These murals are used for a variety of purposes, including creating a visual impact, providing a source of inspiration, and serving as a backdrop for photographs or events.
As a leading Wall Mural Artist in Delhi NCR, we specialize in creating beautiful and custom-designed wall murals for residential and commercial spaces.
Our team of skilled and experienced wall mural artists in Delhi NCR has a passion for transforming ordinary walls into stunning works of art. We use a variety of high-quality materials, including paint, wallpaper, and digital printing, to create murals that are not only visually stunning but also durable.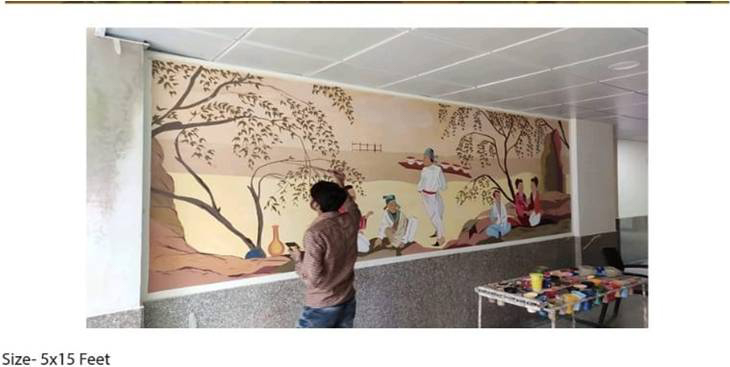 Whether you're looking for a personalized wall mural for your living room, a striking mural art installation for your office, or a colorful mural for a public space, we have the expertise to bring your vision to life.
At our wall mural art studio in Delhi NCR, we believe that each wall mural should be unique and tailored to the client's preferences. That's why we work closely with our clients to understand their vision and create bespoke wall murals that exceed their expectations.
Our wall mural service in Delhi NCR has received recognition for our exceptional service and quality craftsmanship. We use a combination of traditional and modern techniques to create wall murals that are stunning and long-lasting.
If you're looking for a wall mural artist in Delhi NCR, look no further! Contact us today to discuss your wall mural project and let us create a masterpiece that will transform your space.